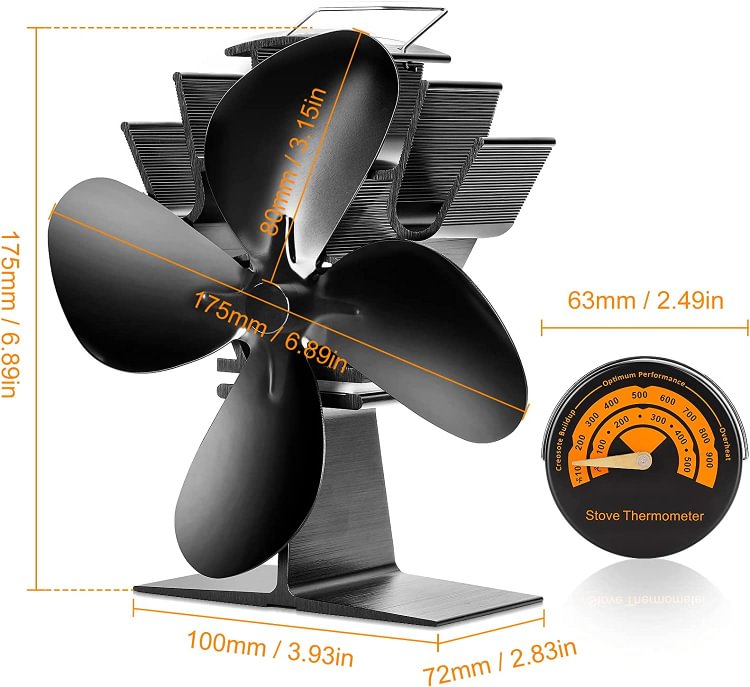 Thank you very much for your patronage and trust! We will serve you wholeheartedly! I wish you a happy life and a smooth work.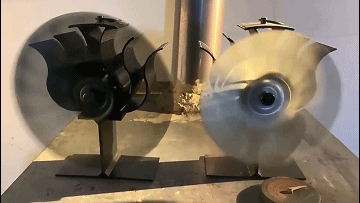 Introducing the Cocoon Fan, the ultimate stove fan designed to warm your living space faster. Simply place the Cocoon Fan on top of your wood stove, it will distribute the heat from your stove evenly across the room.
Since hot air rises, most of the heat from your stove simply escapes directly above and gets lost. That means you aren't feeling the full benefit of your stove.
TheCocoon Fan operates at a low starting temperature (140°F), which means your living space will be toasty in no time. Soon, every part of the room will feel comfortably warm, not just around the fire.
Using theCocoon Fan is the most economical way to effectively circulate warm air. It uses no batteries so it can be used where there is no electricity. The heat of the wood stove is conducted through the base of the fan and converted into 'free' electricity which powers the fan motor.
While standing at just 8" tall, theCocoon Fan moves up to 210 cubic feet of warm air per minute thanks to its innovative blade design.
Moreover, it lowers fuel consumption by increasing the efficiency of your stove. Some stoves save up to 30% fuel.
With its effective, cost-saving design, theCocoon Fan will blow your cold spots away.
Features
✔️ Self-powered by the heat of the stove itself
✔️ Cost-effective: save up to 30% fuel
✔️ Secure: integrated safety strip in the fan base to protect it from overheating
✔️ Silent: due to its unique blade design, you won't feel the breeze, just the warmth
✔️ Effective on all types of stoves (wood, gas, pellet, potbelly) PLEASE NOTE: Start temperature: 140°F
✔️ Easy to install
✔️ Ecological: no batteries required
✔️ Heatproof handle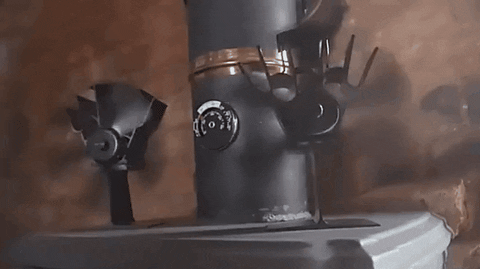 Specifications
Material: Anodized Aluminum
Running speed: 1300 RPM
Airflow: 210 CFM
Height (including blade): 8"
Width (including blade): 7"
Depth (including blade): 4"
Base dimensions: 4" by 3"
Product weight: 1.3 lbs
Sound level: less than 20 dB (inaudible level)
Power source: heat
Color: black
⚠️ Start temperature: 140°F ⚠️
Temperature range: 140°F~660°F
Do NOT exceed 660°F (a stove thermometer is recommended to monitor the temperature)
CE Certified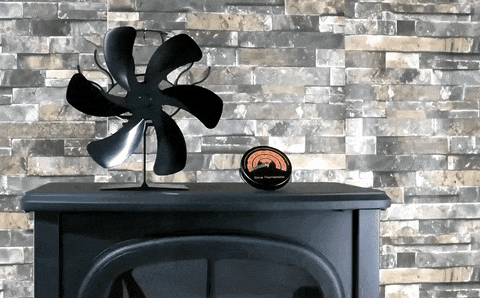 FAQ
'How does this work?'
Physics! This fan uses an innovative thermoelectric device to generate electricity directly from the heat of the wood stove to run the fan. The electrical energy is generated from the thermal energy flowing through the device from the bottom (hot) portion of the fan stand to the top (fan-cooled) portion of the stand. But most of all—regardless of how it works—it is effective! For more info, click here.
'I don't have a wood stove. Will this work with my pellet, coal, barrel, propane, etc., stove?'
The fan works on any surface that gets hot enough to cause it to generate enough energy to power the fan motor. The base of the fan just needs to get to around 140°F to start spinning, though the hotter it gets, the more powerful the fan will be.
'How many fans should I get?'
If you have a large space requiring more circulation power (more than 20ft by 20ft), you might consider getting two fans—though, it is not necessary. About 20% of our customers get 2 fans or more to spread the hot air best.
'Where is the best place to get highest performance from myCocoon Fan?'
Place theCocoon Fan at least 4" away from the flue, so that it does not pick up the radiant heat from the flue. This will cause it to run faster, and for a longer time when the fire is low. If you wish to distribute the heat from the flue across the room, point the fan slightly towards the flue so that the moving air picks up the flue heat as well. In our experience, placing the stove fan towards the back of the wood stove, and pointing into the room, works best.
'Why is it recommended to buy a Magnetic Stove Thermometer?'
The Cocoon Fan is equipped with a safety strip in the fan base to prevent it from overheating. However, if the stove reaches excessive temperatures (over 660°F), it may overheat the fan and damage the motor. To prevent this, you can get yourself a magnetic stove thermometer to check on the temperature and know when it is getting too hot for your fan. If it gets too hot, move the fan to a cooler part of the stove.
'Is my Cocoon Fan covered by a warranty?'
Absolutely, all our products are covered by a 12 months warranty.
Brand story:
sztc888 is an online store that aims to provide products and services to Europeans and Americans. The product categories are mainly household daily necessities, covering more than 8,000 varieties of ten product series such as clothing, gifts, daily necessities, tools, digital home appliances, and fashionable home furnishing.
"Lifestyle Exploration":
We will work with you to improve your life and create more beauty and comfort in your everyday life.
Global Choice, Brand Development:
Since sztc888 was established in March 2021, we have sold a wide variety of quality products with the primary goal of improving the quality of life of our customers. To date, we have supplied products to over 26,000 customers. More than 8,000 products to choose from in November 2021.
"Exploring the Beauty of Life":
This is what we have been pursuing. Our vision is to surprise you by allowing you to discover and experience wonderful things from all over the world through sztc888.
SECTION 1 - WHAT DO WE DO WITH YOUR INFORMATION?

When you purchase something from our store, as part of the buying and selling process, we collect the personal information you give us such as your name, address and email address.
When you browse our store, we also automatically receive your computer's internet protocol (IP) address in order to provide us with information that helps us learn about your browser and operating system.
Email marketing (if applicable): With your permission, we may send you emails about our store, new products and other updates.

SECTION 2 - CONSENT

How do you get my consent?
When you provide us with personal information to complete a transaction, verify your credit card, place an order, arrange for a delivery or return a purchase, we imply that you consent to our collecting it and using it for that specific reason only.
If we ask for your personal information for a secondary reason, like marketing, we will either ask you directly for your expressed consent, or provide you with an opportunity to say no.

How do I withdraw my consent?
If after you opt-in, you change your mind, you may withdraw your consent for us to contact you, for the continued collection, use or disclosure of your information, at anytime, contact us by email [email protected]

SECTION 3 - DISCLOSURE

We may disclose your personal information if we are required by law to do so or if you violate our Terms of Service.

SECTION 4 - SHOPIFY

Our store is hosted on shoplazza Inc. They provide us with the online e-commerce platform that allows us to sell our products and services to you.
Your data is stored through shoplazza's data storage, databases and the general shoplazza application. They store your data on a secure server behind a firewall.

Payment:
If you choose a direct payment gateway to complete your purchase, . Your purchase transaction data is stored only as long as is necessary to complete your purchase transaction. After that is complete, your purchase transaction information is deleted.
All direct payment gateways adhere to the standards set by PCI-DSS as managed by the PCI Security Standards Council, which is a joint effort of brands like Visa, MasterCard, American Express and Discover.
PCI-DSS requirements help ensure the secure handling of credit card information by our store and its service providers.
For more insight。

SECTION 5 - THIRD-PARTY SERVICES

In general, the third-party providers used by us will only collect, use and disclose your information to the extent necessary to allow them to perform the services they provide to us.
However, certain third-party service providers, such as payment gateways and other payment transaction processors, have their own privacy policies in respect to the information we are required to provide to them for your purchase-related transactions.
For these providers, we recommend that you read their privacy policies so you can understand the manner in which your personal information will be handled by these providers.
In particular, remember that certain providers may be located in or have facilities that are located a different jurisdiction than either you or us. So if you elect to proceed with a transaction that involves the services of a third-party service provider, then your information may become subject to the laws of the jurisdiction(s) in which that service provider or its facilities are located.
As an example, if you are located in Canada and your transaction is processed by a payment gateway located in the United States, then your personal information used in completing that transaction may be subject to disclosure under United States legislation, including the Patriot Act.
Once you leave our store's website or are redirected to a third-party website or application, you are no longer governed by this Privacy Policy or our website's Terms of Service.

Links
When you click on links on our store, they may direct you away from our site. We are not responsible for the privacy practices of other sites and encourage you to read their privacy statements.

SECTION 6 - SECURITY

To protect your personal information, we take reasonable precautions and follow industry best practices to make sure it is not inappropriately lost, misused, accessed, disclosed, altered or destroyed.
If you provide us with your credit card information, the information is encrypted using secure socket layer technology (SSL) and stored with a AES-256 encryption. Although no method of transmission over the Internet or electronic storage is 100% secure, we follow all PCI-DSS requirements and implement additional generally accepted industry standards.

SECTION 7 - COOKIES

Here is a list of cookies that we use. We've listed them here so you that you can choose if you want to opt-out of cookies or not.
_session_id, unique token, sessional, Allows shoplazza to store information about your session (referrer, landing page, etc).
_shopify_visit, no data held, Persistent for 30 minutes from the last visit, Used by our website provider's internal stats tracker to record the number of visits
_shopify_uniq, no data held, expires midnight (relative to the visitor) of the next day, Counts the number of visits to a store by a single customer.
cart, unique token, persistent for 2 weeks, Stores information about the contents of your cart.
_secure_session_id, unique token, sessional
storefront_digest, unique token, indefinite If the shop has a password, this is used to determine if the current visitor has access.


SECTION 8 - AGE OF CONSENT

By using this site, you represent that you are at least the age of majority in your state or province of residence, or that you are the age of majority in your state or province of residence and you have given us your consent to allow any of your minor dependents to use this site.

SECTION 9 - CHANGES TO THIS PRIVACY POLICY

We reserve the right to modify this privacy policy at any time, so please review it frequently. Changes and clarifications will take effect immediately upon their posting on the website. If we make material changes to this policy, we will notify you here that it has been updated, so that you are aware of what information we collect, how we use it, and under what circumstances, if any, we use and/or disclose it.
If our store is acquired or merged with another company, your information may be transferred to the new owners so that we may continue to sell products to you.
QUESTIONS AND CONTACT INFORMATION
If you have any questions regarding this Privacy Statement or its implementation, here is how you can reach us:
Q - What is the best way to contact you?
A - We do our best to answer any questions as quickly as possible. The best way to contact is is via our email, [email protected].
Q - When will my order be shipped?
A - Your order will be shipped within 1 to 3 business days.
Q - How long will it take for my order to arrive?
A - For the free standard shipping , your package should arrive within 14 and 25 business days. Please note that we have no control over unexpected delays at your country's customs or post office.
Q- It's been over 25 days and I still haven't received my order, where's my package?
A- If your order was not a pre-order, then there is a chance your package is delayed by your country's customs or local post office. In this case please contact us so we can find a solution.
Q - I need my order ASAP, which shipping option should I choose?
A - If you have time limitations, we recommend you choose the express shipping option. Express shipping does require a signature upon arrival.